Lab
The Lab is a learning and sharing space–a place to make and to think and to do.  As a physical location, a theoretical framework, and a methodological practice, the Lab is an exercise in thinking through disciplinary commitments, the divide between making stuff and making knowledge, and the work of the university itself.  Past labs conducted experiments in feminist pedagogy and community, both within and beyond the university.  This year's labs will continue these experiments and inaugurate new ones.  Check back often and we'll Live Through This.
---
2018-2019 Labs
FALL 2018
Lab-Making /Home-making

(planning session: making & taking space where we work & learn)

Tuesday, October 16 |3:00-4:00 pm| Gender, Sexuality, & Women's Studies Conference Room, Hart Hall
---
Previously on HATCH: 2016-2017 Labs
Spring 2018 Quarter Schedule
A

pril 9, 2pm – 3 pm | Hart Hall 3201

Knights Landing Environmental Health Project | Skye Kelty and Alfonso Aranda

April 23, 2pm – 3 pm | Hart Hall 3201

Towards Gender & Social Equity in the Design of Agricultural Technologies: Testing a Ugandan Student-Led Learning and Innovation Approach | Julia Jordan

Friday May 4th from 12 pm to 3pm: 


Guided workshop on cut-up poetry @ Solano Community Center

Saturday May 5th from 12pm to 3pm:  

Zine Making and Discussion @ Nelson Hall (aka Della Davidson Studio)

Combining poetry and disabled embodied practice, we will facilitate a workshop on cut-up poetry. We will slow down with Lorde, thinking around amputation and prosthesis while rethinking the jagged edges, possibilities, and limitations of cut-up poetry in conversation with the text. We will make cut-up poems from medical journals on breast and liver cancer published in the latter half of the 1970s. We will use this process as a method for reading withLorde's text. Please come having read chapters I and II if you can.

Please RSVP IF POSSIBLE and share widely.

May 11, 1pm -2pm | 

STS

 Conference 

Room

, SSH 1246

Fermentation and microbial collaboration: an interactive artist talk with S.E. Nash | Stephanie Maroney
 In this HATCH Lab session, visiting artist S.E. Nash will give an artist talk and facilitate the in-lab creation of a collaborative drawing that poses questions about bacterial classification and morphology. In making this drawing, participants will be called upon to channel wild fermentation, bacterial motility, and the queer ingenuity of microbes through artistic methods and processes. Nash is a visual artist whose work promotes thinking about microbes through the inclusion of fermented foods in sculptures and installations. By way of participation, observation, and ingestion, audiences are invited to consider microbes as creative actors and collaborators. Nash's work with fermentation began in 2014, after a fermentation residency with Sandor Katz, where they met Stephanie Maroney (PhD candidate, Cultural Studies, UC Davis). Nash and Maroney have since co-authored a piece in the collection Fermenting Feminism, and presented together at the inaugural "Food, Fermentation, and Feminism" conference in 2017.
DHI featured story: Fromenting Ferment: Feminism, food and the ingenuity of microbes
May 21, 2pm – 3 pm |  Hart Hall 3201

 Asking for a Pause: Slow Reading Audre Lorde's Cancer Journals |  Arielle Estrada Sol, Julian Gatto, Marbles Jumbo Radio, and Jessica S. Stokes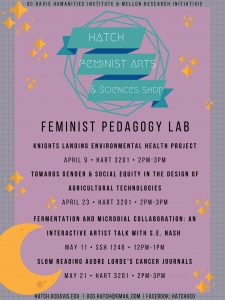 ---
Winter 2018 quarter labs meet from 3-4pm in Hart Hall 3201*
Jan. 24: Feminist Lesson Planning
Feb. 7: Quimera Rosa Lab* (This lab meeting will take place at the Della Davidson Studio)
Feb. 21: Alternative Feedback and Grading
Mar. 14: Movement Syllabi Hackathon Planning Session
---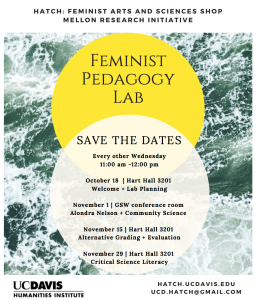 Fall quarter labs meet in Hart Hall, room 3201
October 18: lab planning
November 1: Alondra Nelson visits the lab to talk about community science 
November 15: alternative grading and evaluation 
November 29: critical science literacy