Residencies: creative workshops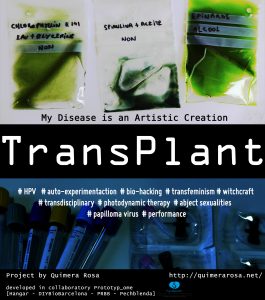 The transfeminist performance group from Spain, Quimera Rosa will be in Davis over the month of February on a residency of their recent project Transplant. During the month of February, they will offer a workshop on DIY photodynamic protocols, craft an installation with processes and products showcasing Transplant and a final performance in collaboration with other transfeminist performers as well as participants in the workshop.
Feb 8-17: Quimera Rosa's
Photodynamic Therapy Transplant workshop
During their residency at UC Davis, Quimera Rosa will facilitate a bio-hacking workshop. At the intersection of science and art, this DIY (Do It Yourself) or DIWO (Do It With Others) workshop will take participants through the steps to create different protocols in replication of work in the laboratory
 – Working with a specific case: HPV (Human Papilloma Virus) / PDT (Photo Dynamic Therapy).
This workshop may be of interest to geeks, bio-hackers, non-binary people, women, sex workers, and trans and queer communities.
Winter Course
Course credit to work through multiple workshops is available through Science & Technology Studies. Students can sign up for 1- 2 units. CRNs:
STS 198 (undergrads): 72675
STS 298 (grad students): 72688
Workshop Schedule
Feb.8, Thursday @ 12pm – 3pm
Feb 9, Friday @ 3pm – 6pm
Feb 10, Saturday 12-6pm
Feb 15, Thursday @ 12pm – 3pm
Feb. 16, Friday @ 12pm – 3pm
Feb.17, Saturday @ 12pm – 6pm
The workshop will cover:
1. DIY/DIWO Lab
Introduction to the lab

Safety instructions

Introduction to the tools

Legal framework of biomedical work

Tools to research papers and establish protocols
2. HPV (Human Papillomavirus Infection) / PTD (Photodynamic Therapy)
Initiation of working with cells

Becoming onco-mouse – a trip through the biomedical mirror: bio-privatization, living models, and modified animals.

Study of the protocol of photodynamic therapy (PDT) with 5-aminolevulinic acid (ala) + led of 466 nm.

DIY replication models used to treat different types of localized cancers, HPV, skin problems, herpes or bacterial infections.

Notions of wavelength, frequency, power, and intensity.
3. Self-experimentation / Performativity as a Mode of Experimentation: "My disease is an artistic creation"
Deconstruction of the laboratory life: tools, protocols, and aesthetics. The performativity of objectivity and knowledge production.

Tools, experience, and experiments on how to 'put the body' in the laboratory. Situated knowledges, self-experimentation, and transdisciplinarity.

Questioning the borders: user/expert, subject/object, art/science, health/disease, public/private.

From 'open the pill' (of AIDS activists) to the 'unhealthy body' as a creative tool in deconstructing processes of normalization produced by notions of a 'healthy body'
---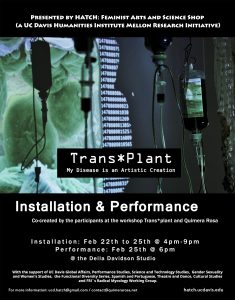 As a result of these past 3 weeks of residency and the Workshop, Transplant, my disease is an artistic creation, we would like to invite you to the opening of the installation and performance. Save the dates!!!
February: from Thursday 22nd to Sunday 25th
@ Nelson Hall
Installation opening. Thursday February 22nd
Thursday 5 pm. Artist talk, my disease is an artistic creation.
Engage with the practices and experiments of Transplant, and mingle in the bio-hack, performance-lab, ritual, study space we have nurtured at the Della Nelson Kitchen for the past month.
Installation. Friday, February 23rd.  Open to public, from 4pm to 9 pm
Installation. Saturday, February 24th. Open to public from 4pm to 9 pm.
PERFORMANCE: My Disease is an Artistic Creation.
Sunday, February 25th from 6 pm to 7 pm.
By Quimera Rosa,  participants to the workshop, and invited artists.
Poetic interventions and a time-space cross-section in the life of our performance laboratory.
what if…
HPV is an interspecies companionship,
genital warts signal flourishing erotics,
sexuality is a porous encounter without making any sense,
cancer is a microrrhizal sign to life,
and
pathology enacts the force of transient passions? 
Working with Quimera Rosa (kina and ce) in the workshop/lab/alchemcical space over the last few weeks it's been really fabulous.  We've been working with kombucha, chlorophyll, mycorrhizae, and making cultures of all kinds (!) in petri dishes, enacting scientific protocols –  We've also been having great conversations about situated knowledges, consent (or the impossibility of consent) with plant forms, care, disease as artistic creation, biohacking, science and colonial histories, co-sensing, collaboration, feminism, sexuality, etc.
---

Jan 20 2018

: 

Zapatista

 ConCIENCIAS for the Humanity
We will listen and discuss the Zapatistas' invitation to imagine the possibility of channeling scientific thought for the good of humanity. The audio will be in Spanish and we will have English transcripts.The listening session will take place at the
Taller Arte del Nuevo Amanecer
 (TANA) in Woodland, CA, and is free and open to the public.
Saturday, January 20
12 pm – 3 pm
1224 Lemen Ave,
Woodland, CA 95776
Facebook: https://www.facebook.com/events/394030387701959/